In the last one month, many incidents of fire in electric scooters have come to the fore.
Recently there was a fire incident in Pure EV scooter in Nizamabad near Hyderabad.
In this, an 80-year-old man died of burns, while three other family members were injured.
Union Road and Transport Minister Nitin Gadkari has also constituted an expert committee to investigate these incidents.
Due to this, questions have been raised again regarding the safety in electric vehicles.
Today we know why these incidents of fire in electric scooters are happening? Are Lithium-Ion Batteries Really Dangerous? What are the circumstances in which electric vehicles are catching fire? So let's know the whole matter.
Also read- Booking of Revolt RV400 will start from April 25, this electric bike is equipped with many features
First know about the lithium-ion battery used in scooters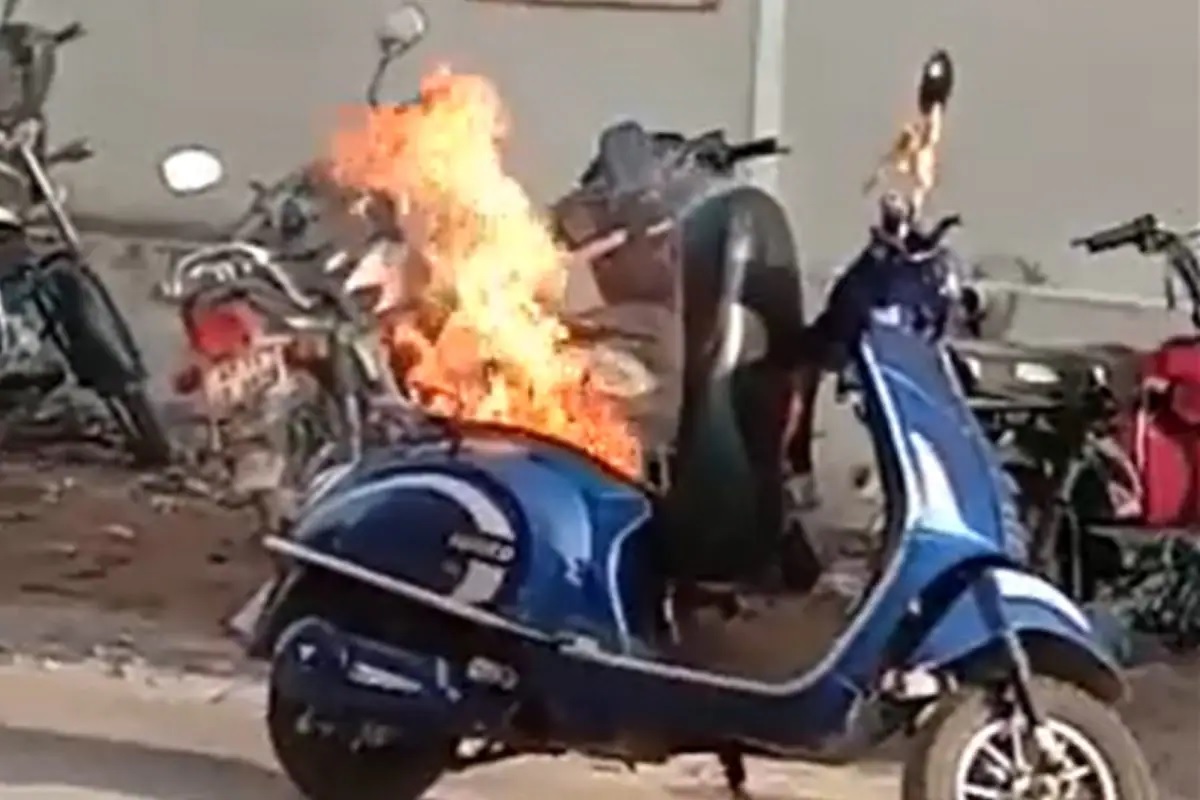 Lithium-ion batteries are commonly used in scooters and other electric vehicles.
Lithium-ion batteries are considered the best way to store energy.
We use lithium-ion batteries every day, be it our mobile phones or other electronic items, all use lithium-ion batteries.
It can store 150 watts of energy per hour.
On the other hand, lead-acet batteries store about 25 watts of energy per hour and nickel hydride batteries can store 100 watts of energy per hour.
Lithium-ion batteries have a higher storage capacity than both of them.
When does fire start?
There can be many reasons for a fire in a lithium-ion battery.
These include manufacturing defects, external damage or bad software.
Too much heat can be generated in a damaged or damaged cell.
This is called 'thermal runway'.
In this, the heat generated in one cell reaches the other cell.
This creates a chain reaction, due to which it catches fire.
How to use this battery?
Lithium-ion batteries have many safety functions.
The most important thing is to maintain its temperature.
You have to maintain the current and voltage along with maintaining the cell temperature.
All lithium-ion cells have a separator, which can melt if the core temperature is too high.
This stops the movement of ions.
Another important requirement related to the battery system is its ventilation.
A pressure-sensitive vent can prevent other cells of the battery from catching fire.
Fire prevention measures?
We have to avoid overcharging the battery.
The battery should also not be kept in direct sunlight.
There is a portable battery, so do not charge it at all while sleeping.
The first case came to light a month ago
The first case of electric scooter catching fire was reported on March 26, when an Ola A1 Pro electric scooter caught fire in Pune.
A video of this incident also went viral.
On the evening of March 26, an incident of fire broke out in an Okinawa electric scooter in Vellore, Tamil Nadu.
Two days later, on March 30, an electric scooter of Pure EV caught fire in Chennai.
On April 11, a fire broke out in the scooters loaded in the truck in Nashik.